About Us
Colorado Goat Yoga is about the whole farm experience
at Barnyard Buddies.
"The instructor as well as the barn owners were fun and helpful. I was a little nervous going into it about being a beginner yoga level, but never once felt uncomfortable or embarrassed during the class. Nothing but laughs and great pics. Great great great experience, must do if you have the change!!!" – Nikki C.
About Kaitlin
---
Practicing yoga since middle school, Kaitlin was inspired to become an instructor over 7 years ago. She received her 200 hour training from Core Power and also received training for Yoga Sculpt. Kaitlin offers a variety of yoga on any skill level including vinyasa, sculpt, paddle board yoga, and animal yoga. She has partnerships with Bounce Animal Rescue and Barnyard Buddies.  
She enjoys being a part of Barnyard Buddies and feels the peace that comes from the beautiful ranch really enables the body and mind to slow down and be present. Not only is she a goat yoga instructor but teaches Puppy Yoga. The animals really create a unique experience and bring much joy to your yoga practice.
Currently, as of October 31, 2022, she is the owner of Omkai Yoga and the co-owner of Colorado Goat Yoga. 

About Janet
---
Janet is the co-owner to Colorado Goat Yoga and the owner of Barnyard Buddies. Janet Farkas began breeding Fainting Goats in 2005. Since then she as created Barnyard Buddies, which raises and breeds various endangered breeds. The love she has for her animals is second to none. Janet is an expert in the genealogy, knowing the lineage of each and every goat.  Janet personally cares for the animals during birth and the beginning stages of the newborns life. Each species is 100% purebred and born right on the Barnyard Buddies ranch.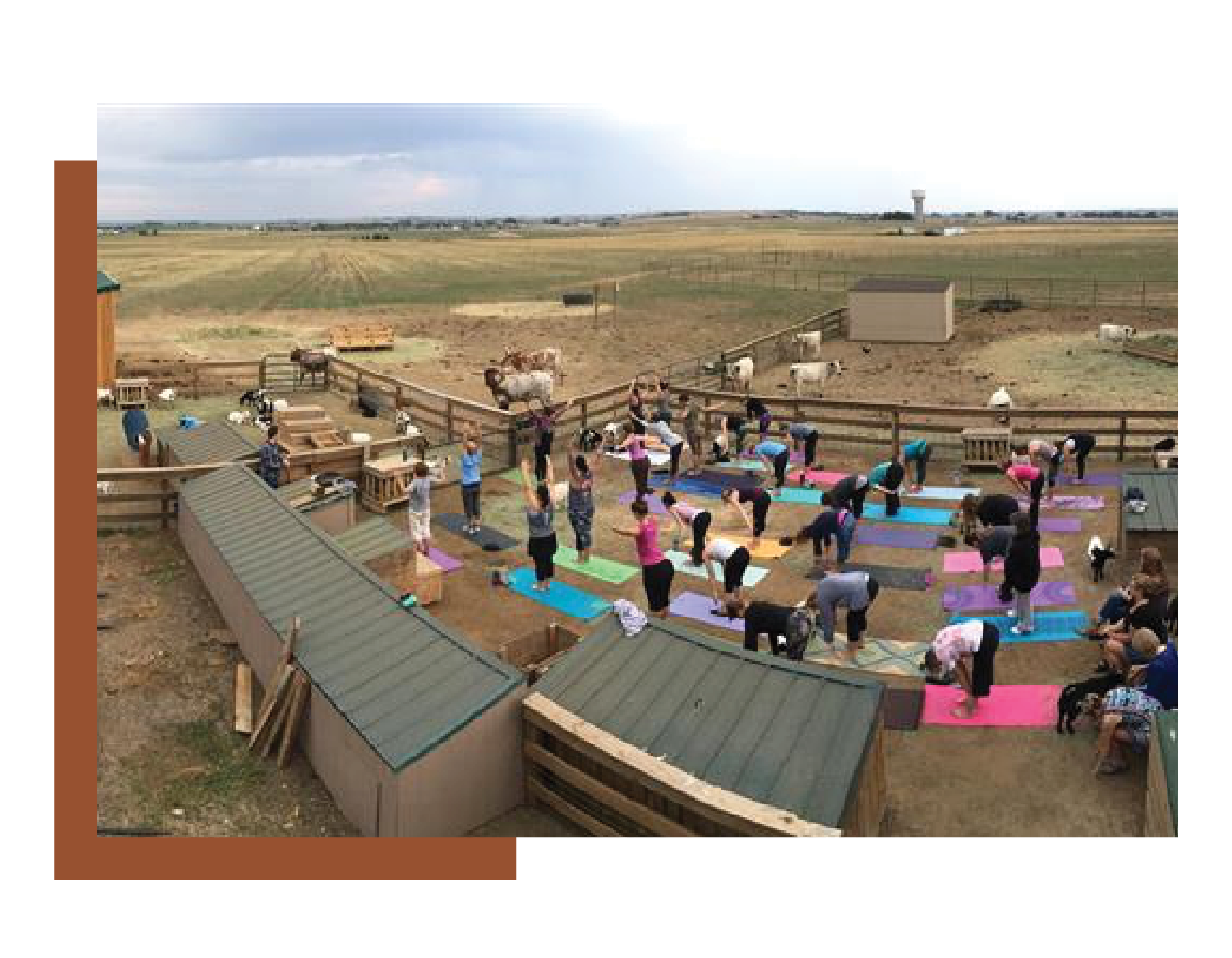 Barnyard Buddies
---
We migrated from the city to our 40 acre farm in 2003 where eventually Barnyard Buddies was born. Our herd consist of 140 goats, 4 Texas Longhorns, 9 Mini White Dexter Cattle, 2 Red Bourbon Turkeys, 30 Chickens, 6 Magpie Ducks, 3 horses and 2 amazing DAD (Diabetic Alert Dogs), Jenny and Hannah. Fainting Goats are the highlight of the ranch.
The animals on the farm are for ranching purposes and pets, they are not used for dairy or meat.